PICS: Vice President Chiwenga's Unseen Wedding Photos Made Public on Anniversary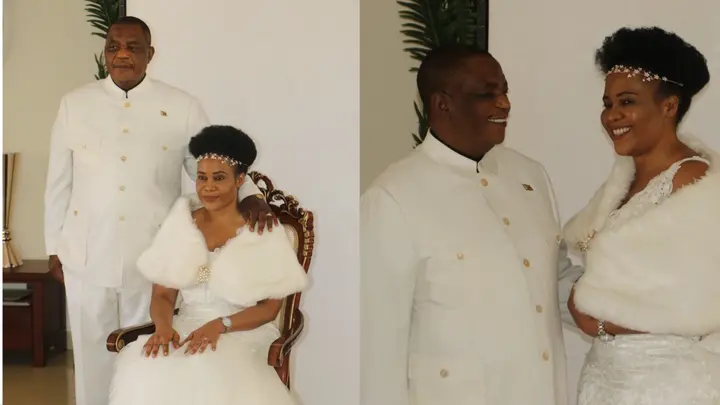 PICS: Vice President Chiwenga's Unseen Wedding Photos Made Public on Anniversaryj
The public has been treated to mesmerizing glimpses of Vice President Constantino Chiwenga and Colonel Minnie Baloyi's wedding, uncovering a previously undisclosed occasion.
These precious photographs, once concealed from prying eyes, have now been generously shared by Vice President Chiwenga's wife as they joyously celebrate their first year as a married couple.
Colonel Minnie Baloyi, in a heartfelt Facebook post commemorating their anniversary, unveiled that the dynamic duo exchanged vows on the 12th of June the previous year.
The Chiwengas opted for an intimate wedding ceremony, shrouded in a captivating fusion of gold and white, held at a clandestine venue. The Vice President, who also holds the esteemed position of Minister of Health and Child Welfare, and his beloved had a witness each by their side to solemnly sign the sacred marriage certificate.
Within these enchanting pictures, Vice President Constantino Chiwenga and Colonel Minnie Baloyi, both adorned in immaculate white attire, share tender and affectionate gazes.
The exchange of vows took place beneath a splendid arch adorned with golden and white balloons, gracefully crafting a heart-shaped canopy above them.
Colonel Minnie Baloyi, who typically keeps her personal life under wraps, took to her Facebook page on Wednesday to reminisce about her marriage to Zimbabwe's Vice President—a blissful occasion that transpired precisely one year and nine days ago.
"Today one year nine days ago i married my muntu …………Happy Anniversary to us," Minnie Baloyi wrote on her Facebook page.
In the comments section, Colonel Minnie Baloyi's friends and followers generously extended their wishes to the couple, celebrating their happy anniversary.
Vice President Constantino Chiwenga and Minnie Baloyi's Wedding Photos