Olinda Chapel divorces Tytan
United Kingdom-based businesswoman Olinda Chapel made public her decision to divorce her husband Tytan Nkomo on cheating allegations.
Taking to social media, Olinda said that she made the decision with a heavy heart.
This comes after she first posted a picture of a broken heart with a caption: "If you are dating my "husband" please keep him."
She then posted a longer message venting her frustrations while pointing out that Tytan is the one to blame.
Meanwhile, she did not give many details regarding her decision to dump Tytan.
"It comes with an extremely heavy and broken heart, that I have to announce I am walking away from my marriage. I have loved with my soul and I have forgiven so many things that are deemed unforgivable," she wrote.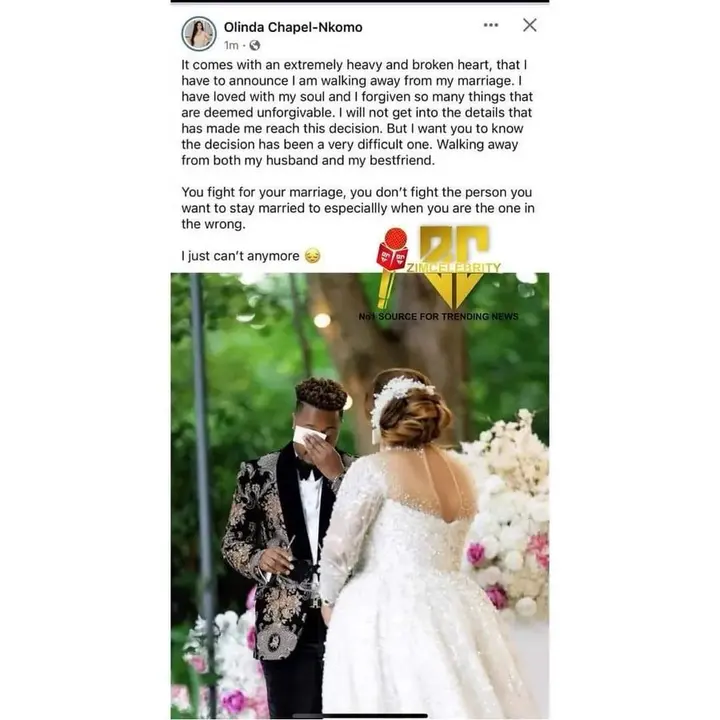 She has since deactivated her Facebook account.
In 2022, Olinda and Tytan reconciled after a messy divorce and had their second wedding in July.
The first divorce was so nasty with Olinda making sensational claims about the Mukoko hitmaker.
In the court papers, the 34-year-old mother of three sensationally accused Tytan of hoodwinking her into believing he was in love with her, yet it was part of his scheme to get British citizenship.
Tytan walked out on Olinda a few months after their wedding soon after the couple was blessed with a baby girl, Nandi.
Part of her summons read:
At the time that the marriage was entered into, defendant (Nkomo) intended it to be a marriage of convenience and a conduit for the sole purpose of the acquisition of immigration papers entitling defendant to remain and reside permanently in the United Kingdom of Great Britain and Northern Island and by virtue of plaintiff (Olinda's) permanent immigration status in that country
The plaintiff seeks an annulment of the marriage between the parties which is a nullity more particularly in that at the time that the parties entered into the marriage and exchanged vows, no valid marital union was created as plaintiff was not aware that defendant was entering into the marriage exclusively for the purpose of his acquisition of immigration papers entitling defendant to remain in the United Kingdom of Great Britain and by virtue of plaintiff's permanent immigration status," Olinda's lawyers AB & David further submitted.
The summons were filed on January 31 2020. Olinda and Nkomo got married in Harare on June 29, 2018, and the marriage still subsists.
This comes after Olinda issued an online petition to have her former husband deported from the U.K. soon after their nasty break-up, last year.