Zanu PF red-flagged for child abuse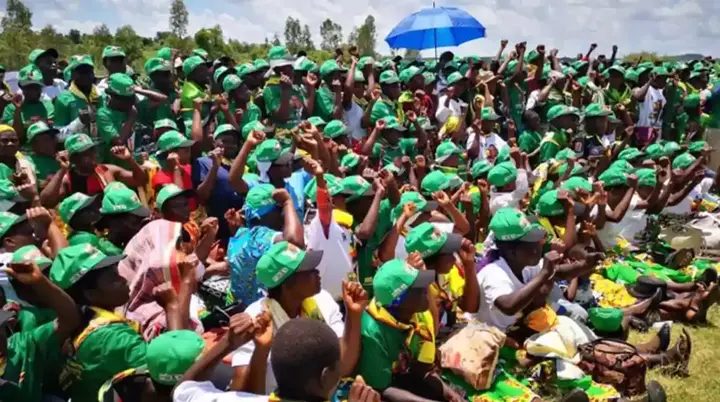 ZANU PF has been asked to stop involving children in its political campaigns after some learners were paraded at a rally in Bulawayo's Cowdray Park high-density suburb chanting slogans against the opposition.
The ruling party has been bussing people to its rallies, including school children.
In Nkayi, Matabeleland North province, some children were seen chanting Zanu PF slogans wearing party regalia despite them not of voting age.
In Cowdray Park, a young school girl was made to chant: "Forward with Vice-President Constantine Chiwenga, Kembo Mohadi and several Zanu PF top leaders, including Finance minister Mthuli Ncube."
Nkayi Community Parliament speaker Nhlanhla Ncube said this was an abuse of children's rights.
"School children have been severely affected by the COVID-19 pandemic, which resulted in grave loss of learning time. To further reduce their learning time by rally attendance is grossly unreasonable and uncivilised," Ncube said.
"The irony of it is that they don't even vote. Zanu PF is clearly clueless and clutching at straws by abusing school children in its bid to create artificial crowds on which it relies to cover for its loss of popularity.
"Parents should stand up and defend their children against abuse by punishing the perpetrators at the polls."
Ndebele King Bulelani Khumalo's spokesperson, Bornman Khumalo, said children should not be used in political campaigns.
"This is the abuse of children, period," Khumalo said.
Political commentator Effie Ncube said human rights organisations and parents should work together to fight the abuse of children by Zanu PF.
"Children must be allowed to grow away from the partisan, vulgar and toxic language that characterises rallies in Zimbabwe. An environment where obscenities freely fly around is never good for raising upright children," Ncube said.
Ibhetshu LikaZulu co-ordinator Mbuso Fuzwayo said Zanu PF should respect the Constitution and the rights of children.
Rural Community Empowerment Trust Matabeleland co-ordinator Vumani Ndlovu said the language used in election campaigns was not good for children.
"Further, they are exposed to many risks such as violence. It is also mind boggling for political parties to mobilise children under the age of 18 to attend these rallies when they are not even eligible to vote," Ndlovu said.
Zanu PF Bulawayo provincial spokesperson Archibold Chiponda promised to respond to Southern Eye questions, but had not done so at the time of going to print.