From Exes To Extraordinary: Stunner's Performance For Olinda's Birthday Sends Social Media Into A Frenzy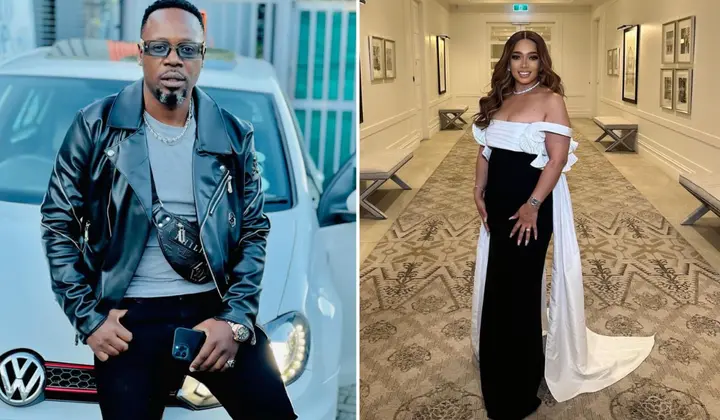 Social media users are in a state of shock and awe as a viral video captures rapper Desmond Chideme, popularly known as Stunner, delivering a mesmerizing performance for his ex-wife, the renowned UK-based Zimbabwean businesswoman Olinda Chapel.
The intriguing video has sparked curiosity among social media users, who are now questioning how Tytan Nkomo, Olinda's current husband, might be feeling in light of this unexpected development.
Below are some of the comments on Instagram.
dhafana_.zw
Mari ine simba honestly. 
amaiwinnie
Song ye svoto chaiyo.
official_gaffaress
She miss him no doubt the disrespect is crazy. 
ronniedeepoorcousin
Tytan arikuitiswa. 
zoey_gracely
Chii chii chinoita kuti ukanganwe the pain your ex has caused kusvika pakumudzosa mulife. 
Olinda Chapel, who has recently reached the milestone of 40 years, took to her Facebook page to announce her birthday celebration plans and promised to make the weekend an unforgettable experience.
She wrote:
All roads lead to Birmingham this week for my 40th birthday party. I can't wait to celebrate with everyone that's has been a part of my journey.
Road2Forty . . . Taosvika chete
In another post, she wrote:
It's officially my birthday weekend. If you don't like to see me happy please deactivate social media till next week 🔥🔥🔥🔥
Munhu wese kwatete mai Sean this weekend.
Stunner's Surprise Support: Ex-Wife Olinda's Birthday Wish Receives Rapper's Seal of Approval
Stunner publicly defended his ex-wife, Olinda, in May this year, following a social media post where she wished him a happy birthday.
With heartfelt gratitude and appreciation, Stunner made it clear that Olinda had done nothing amiss by extending her birthday wishes.
The rapper further emphasized that he and his ex-wife have the freedom to exchange kind words without seeking anyone's permission.
He revealed plans to join Olinda and her husband, Tytan, for a drink at a gig in Leicester, UK at that time.
Refusing to conform to the notion that ex-spouses must always be at odds, Stunner emphasized that both he and Olinda are good-hearted individuals who have moved past their differences.